Not to be confused with Uldir.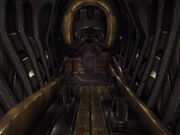 Uldis[32, 65]

is a subzone of the Storm Peaks located within the large mountain which the Temple of Storms lies atop. The entrance is less than halfway up the mountain on the south side, located just north of Bor's Breath and southeast of Valkyrion. It has titan architecture and resembles a giant engine room or clockworks. It was the location of the Heart of the Storm.
Notes and trivia
It bears great similarity to Loken's Bargain[56, 58] in the Storm Peaks. It seems also similar to the Engine of the Makers, in a smaller and less weather-beaten form. It is possible that it, like the Engine of the Makers, is a part of the Forge of Wills.
Uldis shares the same prefix of "Uld" as Ulduar, Uldaman, Uldir, Uldum, Uldaz, Uldorus, and Ulduran.
Uldis is a Latvian male name.
Patch changes
External links