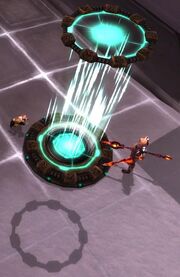 The Ulduar Teleporters make up the Ulduar Teleportation Network, and are fixed devices found throughout Ulduar to allow the creations of the titans to quickly travel around the city. After defeating certain bosses within, they become available to use by the players for the same purpose. They are the only way to advance into The Antechamber.
Stations
To use, simply right-click the teleporter and choose the location you wish to travel to:
Conversation
After using the teleporter for the first time, a Kirin Tor Battle-Mage and a gnome Hired Engineer from the Explorer's League have a conversation on approach at the Expedition Base Camp pad.
Kirin Tor Battle-Mage says: Any luck?
Hired Engineer says: Not a bit. For the life of me, I can't figure out how this thing works.
Kirin Tor Battle-Mage says: Keep at it. If our suspicions are right and this is a transporter, it could prove extremely useful in our assault.
Hired Engineer says: I know, I know... I haven't given up yet. Don't get your hopes up though, this technology is way beyond me.
Ulduar Teleportation Pad

This section concerns content related to Legion.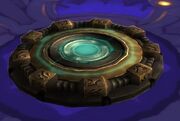 During

 [10-45] The Diamond King, it is revealed that Mimiron gave an Ulduar Teleportation Pad to Brann Bronzebeard in case of emergencies. The dwarven explorer uses it to return back to Ulduar in the search of his brother Magni.
After the adventurer is teleported to Ulduar, clicking again on the teleportation pad would give an humorous message:

"Thank you for using the Ulduar Teleportation Network!

All destination points are currently offline for maintenance. If this is an emergency, please contact a Visitor Information Representative during regular business hours.

Have a nice day!"
External links