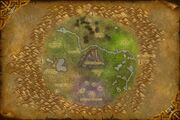 Un'Goro Crater is a level 50-55 zone in Southern Kalimdor. All quests here are neutral and concern exploring the primal wilderness of the crater and its creatures, culminating in a revelation about the purpose of Un'Goro Crater and its connection to the titans.
Marshal's Stand
Optional breadcrumbs:
The Northern Pylon
Starting at Williden Marshal:
The Western Pylon
Starting at Nolen Tacker (requires completion of

 [15-30] Mossy Pile):
The Eastern Pylon
Starting at Zen'Aliri:
Ravasaur Trainers side chain:
 [15-30] 

Toxic Tolerance

 [15-30] 

Venomhide Eggs

 [15-30] 

They Grow Up So Fast

(requires completing 20 of following dailies, with random one available each day)
Side quests
A-Me 01
This chain is given by Shizzle and Karna Remtravel at Mossy Pile. The player is sent there on

 [15-30] Mossy Pile.
The Ballad of Maximillian
Players meet Maximillian of Northshire when sent to the Golakka Hot Springs on

 [15-30] Adventures in Archaeology.
World object quests
From
 [Crate of Foodstuffs] (northeast):
From

 [Research Equipment] (southwest):
Finale: The Shaper's Terrace
After completing all of

 [15-30] The Northern Pylon,

 [15-30] The Western Pylon and

 [15-30] The Eastern Pylon:
 [15-30] 

The Shaper's Terrace

 [15-30] 

Ever Watching From Above