Objectives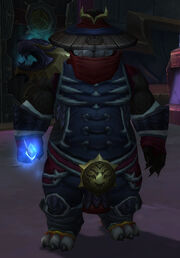 Speak to the Shado-Pan Sentinel to gain entrance to the Shado-Pan Monastery.
Description
I simply refuse to believe the guards will not grant us entry to the monastery should we impress upon them the seriousness of the situation.
Friend, go east, to the sentinel in front of the Monastery, and demand admittance. I will come with you.
Rewards
Progress
Unbelievable!
By the order of the lord Taran Zhu, none shall pass.

 I am here with Ban Bearheart, and we demand an audience with Taran Zhu!
Shado-Pan Sentinel yells: Demand?! You DEMAND?!
Shado-Pan Sentinel yells: Who are YOU to make demands of the SHADO-PAN?
The sentinel turns hostile and is possessed by rage!
Completion
No... this is worse than I could have possibly imagined. The monastery itself has been compromised...
Gains
Notes
Ban will join the party on accept, buffing the player with 10 stacks of Earth Shield. Head east past all of the waiting grummles to reach the eastern entrance of the Shado-Pan Monastery. At the door is a Shado-Pan Sentinel.
This completes "The Shado-Pan" portion of

 [Slum It in the Summit].
Progression
Optional breadcrumb:

 [20-35] The Shado-Pan
Patch changes
External links