Underbough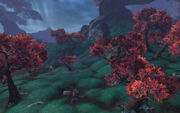 The Underbough of Kri'vess is undeveloped forested land surrounding the great tree. Populated only by Rankbite tortoises and Longshadow mushan, the Underbough is bordered by the Shado-Pan Garrison, Deadtalker's Plateau, the Gai-Cho Battlefield, Fire Camp Gai-Cho, and the Lower Sumprushes.
The Underbough Digsite
The area is a Mantid archaeology dig site.
Patch changes