Underlight Angler
Item Level

20

Speed 3.00
7 – 11 Damage
Equip: Grants the Undercurrent ability, allowing you to instantly teleport to the nearest fishing node within 100 yards.
Equip: Fishing skill increased by 15.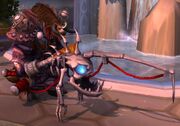 Underlight Angler is an artifact fishing pole. Crafted by Marcia Chase, the rod is made from the head lure of the deep sea murloc Mglrrp, which apparently gives the rod its power, and the body of the rod is made from Mglrrp's skeleton.[1]
Unlike the other Legion artifacts, the Underlight Angler's power was not sacrificed to draw out the darkness from the Sword of Sargeras to stabilize Azeroth's wounds, and thus it is usable in Battle for Azeroth and beyond.
Source
This item is a quest reward from


 [10-45] Fish Frenzy, which is started by

 [Luminous Pearl]. In order to fish up the pearl, players are required to have the following:
Artifact traits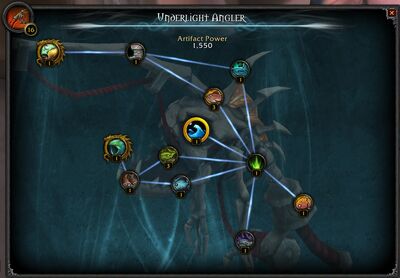 Appearances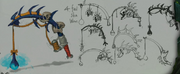 Trivia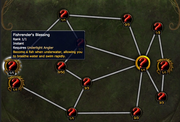 The arms are physics enabled.
Its artifact tree was, when originally datamined, in the shape of a fish.[2] Like other artifacts, the final version is shaped like the rod itself.
It requires a total of 358,770 artifact power to finish the artifact tree which requires 7,176 rare fish to reach.
At some point, an alternate appearance was planned. It would be unlocked via  

[

The Broken Hook

]

.
Patch changes
Patch 8.2.0 (2019-06-25): The Underlight Angler no longer retains its movement speed increase while in combat.[3]

Patch 8.0.1 (2018-07-17): Stat squish. Many fishing items give less fishing skill points. (Previously 60 skill)

Patch 7.0.3 (2016-07-19): Added.

References
External links

Wowhead
 The Legion Fishing Artifact, Underlight Angler