Benito Perez Galdos

Title
<Master of Business Administration>
Gender
Male
Race
Human
Class
Commoner (20 years)
Affiliation(s)
Mexico
Occupation
Engineer
Location
Monterrey, México
Status
Alive
Relative(s)
Parents, 1 brother and 1 sister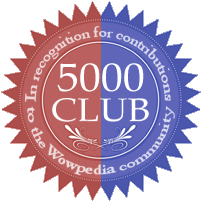 This user is a tireless member of
the
5,000 club
!
Hi, I am BenitoPerezGaldos. I like all the warcraft series, specially the game Warcraft III. I have finally graduated from my master's degree, so I hope I will be helping more in the wiki.
Things to do
Specific actions
Projects
Note: If someone want to join to my projects, just ask in the respective talk page.
Horde projects
Organization projects
RTS projects
Race projects
Blizzard products & Employees project
Miscellaneous projects
Second War (original)
I've made an article about the original Second War with just the briefings of the missions and little modifications for past tenses or to fit with the other missions. It can be found here. I plan to use this to expand the current Second War article.
See also: User:Benitoperezgaldos/Second War
Always working on
Tracking down fan-nammed articles and fanfiction in mainspace.
Removing/Reverting vandalism.
Cleaning up or correcting what I can from the other users contributions from Recent Changes.
Personal templates
This user plays as a member of the

Horde

.
This user has a strong interest in articles on

lore

.