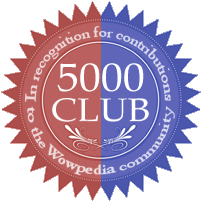 This user is a tireless member of
the
5,000 club
!
| | |
| --- | --- |
| | This user has visited WoWWiki in the past. |
(So easy. What's the problem with this pronounce? Some people who don't speak a Latin language get lost, or isn't that case?)



(I'm recognizing both as good options)



This user has a strong interest in articles on

lore

.
(But I don't play WoW yet. Also I played a little of WC1 Demo and WC2: ToD)



(A Brazooca Panda...)



This user had no plans to defend

Garrosh

during attacks.
(I didn't even play WoW, how I could planning something like it??)



See too: Notable Artifacts, Transport vessels and ships and Shipyards