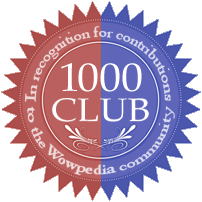 This user is a respected member of
the
1,000 club
!
Hey, everyone. Hope all is well in your world.
My name is Hallowseve, also known as Hallowseve97. I've been playing World of Warcraft since shortly before Patch 2.1.0, "The Black Temple". I started when I was 10 years old on my father's account. As time went on and I played more, I grew deeply invested into the lore and ongoing story. At some point in high school, I finally saved up some money and purchased my own account and have played on-and-off to this day. I unsubscribed towards the end of Mists of Pandaria, vowing to return only if "subraces were added". Well, that happened in the form of allied races in Battle for Azeroth, so I resubscribed and made a full comeback just before Patch 7.3.0, "Shadows of Argus". I've been playing ever since.
I play on the realms of Wyrmrest Accord (Horde), Moon Guard (Alliance), and Bloodsail Buccaneers (Classic). I'm the guild master of <Hold the Line>, a highly-populated variety guild on Horde-side Bloodsail Buccanners that strives to help each other, as well as hold the line as proud soldiers of the Horde. I consistently roleplay on Wyrmrest Accord and Moon Guard. One can also find me frequenting the LookingForGroup chat channel on either realm. It's like a second guild to me.
I'm a cosmetics enthusiast. I would like more customization options, more allied races, and more freedom when it comes to transmogging. I also want every race already in the Alliance and Horde to be playable in some capacity, preferably as allied races.
When I'm not playing World of Warcraft, I enjoy playing video games for the Nintendo Switch and PlayStation 4. I like JRPGs, Platformers, Action-Adventures, and more. I like listening to music, too; video game music has a special place in my heart. My two favorite series are Kingdom Hearts and The Legend of Zelda. I also work as a server and do acting as a hobby. Overall, I'm a chill and optimistic person. If you'd like to chat, feel free.
Project(s)
These are active user articles I constantly update or am proud of:
User:Hallowseve15/Expanded Customization

(includes subraces and such)

User:Hallowseve15/Relevant Characters
Other
This user has a strong interest in articles on

lore

.
This user plays on an

RP

server and does, in fact, roleplay there.
This user would like

Ogre

to be a playable race.
This user would like

Furbolg

to be a playable race.
This user wanted the

Goblin

to be a playable race, and his wish came true!
This user wanted

Worgen

to be a playable race, and their wish came true!
This user wanted

Pandaren

to be a playable race, and their wish came true!
This user wanted

Monk

to be a playable class, and their wish came true!
Rx1 Kx2
This user can spell

arakkoa

.