User:Harveydrone
I've been lurking on wowwiki for a while, slowly becoming more active, though still generally in the spell-checking and formatting front. Currently helping out on the Warlock project, hopefully adding info in the "Demons I've Enslaved For No Reason" category.
Characters
I have way too many: at least one of each race & class (though not every possible combination).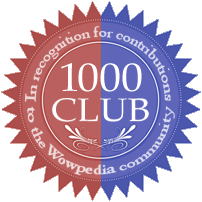 This user is a respected member of
the
1,000 club
!