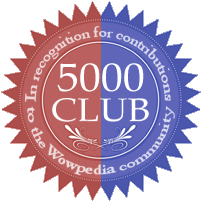 This user is a tireless member of
the
5,000 club
!
Author of the Wowpedia Editor's Toolkit browser extension.
To do list
Add item page support to WET.
Done
Zones needing better infobox images
Images may have been replaced later by others.
Classic
Legion
Userboxes
This user has a strong interest in articles on

lore

.

This user prefers to

RP

.

This user has reached

level

110.
(Prior to the level squish)

This user is

female

and feels really weird playing

males

.

| | |
| --- | --- |
| | This user enjoys exploring the less visited areas on Azeroth. |

| | |
| --- | --- |
| | This user approves of the lowered difficulty in raids and is glad to see new content. |

This user uses

Linux

to play WoW, and may or may not call it

GNU/Linux

.

This user uses

KDE

to browse Wowpedia.