User:MJBurrage
4,043 edits means this user is addicted to

Wowpedia

.
Michael J Burrage is an academic from Vermont, with a degree in Mechanical Engineering from Clarkson University and an MBA from the University of Vermont.
Character backgrounds
I love exploring the world (even more than adventuring), and

Chef Smallen had seen more of the world than might be expected by 20th level (all but four gryphon points). He achieved the Explorer achievement before he could learn Cold Weather Flying, and along the way learned each-and-every cooking recipe. Using any unusual exploration methods would take away all the fun, so he spent a lot of time stealthed, and scrambling in narrow valleys. I can recommend the walk to the Dun Morogh airfield if you need a break. :-)

Korak is the son of a Count of Stormwind, and like his father, was raised in the jungles of Stranglethorn Vale. He often travels with his father's companions Nkima the monkey and JadBalJa the lion.
Meriem, Korak's wife, also grew up in the Stranglethorn jungle. She is of noble blood in her own right. She often travels with her husband's oldest companion Akut the great ape.

SerraEngel and

AngedeSerra are half-sisters, whose mother was

Serra, a Quel'dorei Paladin. They were raised by their respective Human and Sin'dorei fathers.

Santorini is from a distant and devastated island, and goes by the name of his homeland as a tribute to his fallen tribe.

MortCavaller still does not recall who he was, or where he was from, and so simply calls himself "DeathKnight" in the first language he remembered.
Interesting stuff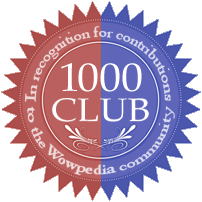 This user is a respected member of
the
1,000 club
!
Cooking
Vashj'ir cave entrances:[1]
External links

Allakhazam

Warcraft Pets

Crafter's Tome

MMO Champion

MapWoW.com
Cataclysm

The Tauren Chef
 Real cookbook, based on game recipes.

Warcraft Movies
US
&
EU
– WoW commercials:
Contributions
Released into public domain
I agree to release my text and image contributions, unless otherwise stated, into the public domain. Please be aware that other contributors might not do the same, so if you want to use my contributions under public domain terms, please check the multi-licensing guide.
List