This article is a guild information page.

The contents herein are entirely player made and in no way represent official World of Warcraft history or occurrences which are accurate for all realms. The characters and events listed are of an independent nature and applied for roleplaying, fictional, speculative, or opinions from a limited playerbase only. Guild pages must comply with the personal article policy.

Page last modified: 2018-04-28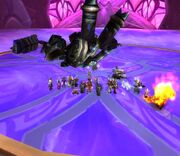 The Unites Exiles is a casual Alliance guild on the server Moonglade EU.
Who are The United Exiles?
We're just one small happy family. Getting hugely expanded is NOT our objective. Because believe it or not it will destroy this kozie sentiment about our small happy and Happy family. Yes we are small in members but BIG in our hearts. We help, respect and care for each others. The United Exiles is our happy home.
That is our true identity and we do NOT intend to change it whatsoever.
Raiding
Raiding is not our major priority. However we do raid the small places. Rushing to get bigger so we can raid the big ones wont happen. We WONT jeopardise our family for raiding purposes.
Notable members