"There's Caleb. He used to try to get me to pay him gold for protection before I told him about the wards I had inscribed on the building that caged the guardian elementals. Long story, but quick resolution." - Sand, Neverwinter Night 2.
"Do you realize the power you might hold? When the world of flesh is beneath you, even creatures mysterious and magical will fall!" - Irenicus formerly Joneleth Irenicus, Baldur's Gate 2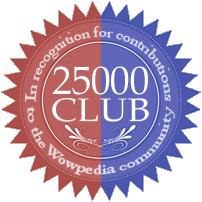 This user is a legendary member of
the
25,000 club
!
The Golden Kobold
Coobra has awarded TherasTaneel with the Golden

Kobold

, for their work here at Wowpedia!
This user wanted

demon hunter

to be a playable class, and their wish came true!
This user would like

Fel Elf

to be a playable race.
This user has a strong interest in articles on

lore

.
This user had no plans to defend

Garrosh

during attacks.
Current Projects
Future Projects
Zone-cleanup (images and external links)
And afterwards capitals, cities. Outland and beyond.
mixed infinte
minor
images
npc-list
Stuff to look at
Notes
Players can obtain what appear to be ioun stones,
 [Tourmaline Crown] and
 [Crown of Endless Knowledge]. Another form could be the

 [Circle of Flame] and

 [Crown of Destruction].
Favorite NPCs/Mobs
Gallery
Characters
List of characters (Europe) :
(Arathor)


Horaka (

/

)


Taneel (

/

)


Vornal (

/

)