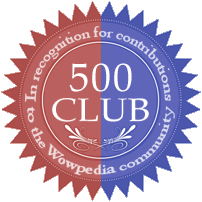 This user is a notable member of
the
500 club
!
Add-Ons
I host my addons on Curse, see [1]
In teh works
Project for better UIOBJECT* pages
My Bot
Watchlist
A watchlist for me and anyone else who is interested. The only reason for this is, that the real watchlist gets a bit large over time.
Misc
Pages, I don't want to forget due to various reasons
Wrong named pages
Pages that are named wrong, but somehow I think they can't be easily renamed
Language
Pages with non-english content
Useless?
Useless pages that can't easily be deleted, have ongoing votes for deletion, or that I'm not sure about if they are useless or not
Scripts by watchout™
There's that project...
... Does this look familiar? Do you know what it is? Neither do I! I made it last night in my sleep. Apparantly I used Gindrogac - Highly unstable. I put a button on it, yes, I wish to press it but... I'm not sure what will happen if I do ~Gune, Titan A.E.
I'm still working on my one and only addon, it's far from finished or even beta (blizzard managed to overthrow my whole code due to api changes three times now - biggest change were the Secure Templates of course), so I won't publish it. But there are some small technical things that I have/had to solve while writing the addon. I think others may benefit from this, so I'll be adding them here.