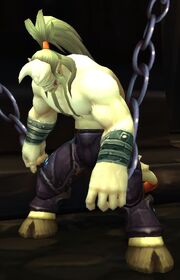 Vaelen the Flayed can be found in Icecrown. He is a death knight who was first sent by Baron Sliver to invade Jotunheim, but he failed and his entire contingent got captured. He now asks the player for help to free his men. After being freed he is relocated to the Shadow Vault.
Quests
Phase 1
 [25-30] 

Get the Key

 [25-30] 

Let the Baron Know
Phase 2
 [25-30] 

Ebon Blade Prisoners

 [25-30] 

Vaelen Has Returned
Quotes
If there's nothing else that you can do, kill these things!
Patch changes
External links