The subject of this article was removed in patch 4.0.3a but remains in World of Warcraft: Classic.

This includes items and quests that can no longer be obtained or are now deprecated.
The categories should reflect this, and should not include retail realm categories.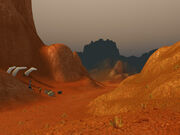 The Valley of Fangs is a small valley between two massive stone formations located in the central Badlands. It is the location of one of the many small quest camps in the region, this one containing Martek the Exiled, Rigglefuzz, and Jazzrik. Travel through the valley can be hazardous as it is home to both wolves and cougars.
During the Cataclysm, the valley was destroyed by Deathwing as it lies directly in the path of destruction that makes up the Scar of the Worldbreaker.
Patch changes
External links