For the quest, see  [45] 

Vengeance Point

.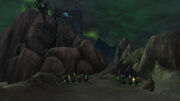 Vengeance Point is a small island off the northwestern coast of the Broken Shore. A flightpath can be found there.
Characters
Generic Illidari Demon Hunters
Trivia
During the patch 7.2.0 PTR it was also known as Dreadstalker Point.
Patch changes
Patch 7.2.0 (2017-03-28): Name changed from Illidari Camp to Vengeance Point.

Patch 7.0.3 (2016-07-19): Added.