Vengeance for the Fallen
For the Horde version of this quest, see  [90] 

Vengeance for the Fallen

.
Objectives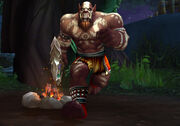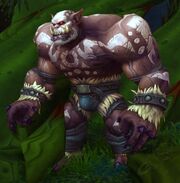 Slay 6 Bleeding Hollow orcs.
Description
Too many of my people have fallen at the hands of the Bleeding Hollow. Their cruelty cannot be forgiven.
<The grieving draenei looks up at you.>
Make them pay.
Rewards
You will receive:
Progress
Yes, <name>?
Completion
I admire your sense of duty, <name>. Even when your own survival hangs in the balance, you still find time to bring closure to a grieving widow. Well done.
Notes
Pick up

 [90] Bled Dry from Taag before heading out. Then kill the Bleeding Hollow savages, hatchets, and berserkers.
Once done with all three, find Khadgar and the party up the hill, southeast of where the Karabor prisoners were. Turn in to Maraad.
Progression
 [90] 

Azeroth's Last Stand

 [90] 

Onslaught's End

 [90] 

The Portal's Power

 [90] 

The Cost of War

Complete all of:
 [90] 

Altar Altercation

 [90] 

A Potential Ally

 [90] 

Kill Your Hundred

Complete all of:
 [90] 

Keli'dan the Breaker

 [90] 

Prepare for Battle

Complete all of:
 [90] 

A Taste of Iron

 [90] 

The Home Stretch
Patches and hotfixes
Hotfix (2014-11-13):

Bleeding Hollow orcs respawn much more quickly now.



Patch 6.0.2 (2014-10-14): Added.

External links