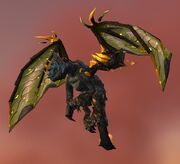 Vial of the Sands is a mount that allows characters to transform into a

[Sandstone Drake] flying mount capable of carrying another player. Learning this gives the achievement

 [Vial of the Sands].
Source
This item is created with Alchemy (525); taught by

 [Recipe: Vial of the Sands].
Mount Journal
Sandstone Drakes were studied in great detail long ago by the famed alchemist Walleye Sprysprocket. It has even been said that Walleye developed potions to mimic the drakes' physiology.
Raw materials
Notes
Patch changes
Patch 4.2.2 (2011-08-30): Use description changed slightly.

Previous description: Teaches you how to transform into a dragon, allowing you to fly very fast and carry an ally on your back.


Hotfix (2010-12-14):

The Alchemy mount Vial of the Sands is no longer Bind-on-Pickup.



Patch 4.0.3a (2010-11-23): Added.

External links
Mount family

Dragonkin
Feathermane
Invertebrate
Mammal
Reptile
Other

Specific types
Non consumed player-transforming items

Vendor
Drops
Treasure
Quests
Profession
Event
Other