This article is about the race. For the Krokuun mob, see Vilefiend (mob). For the mount, see  

[

Vile Fiend

]

.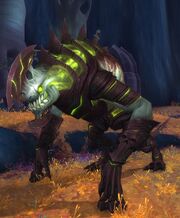 Vilefiends (or simply fiends)[1] are a type of demon found on Argus. They are infused with acidic blood through a terrifying ritual.[2]
Notable
Types
As a mount
Trivia
Vilefiends use the felbat animation skeleton.
Gallery
References
^  [45REWQ] 

Talestra the Vile
Creature group
Demon creatures