Vindicator Aluumen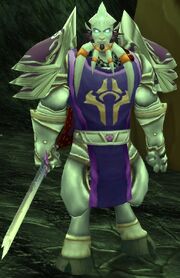 Glory to the naaru![1]
Vindicator Aluumen is a draenei quest giver located at the Altar of Sha'tar in Shadowmoon Valley.
Quests
 [70] 

The Ashtongue Tribe
Quotes
Gossip
Illidan's grasp on this land is slipping. Can you feel it, <name>?
Dialogue

Exarch Onaala says: Why hasn't Illidan made his move? All this waiting is making our forces uneasy.
Vindicator Aluumen says: The Betrayer hasn't been the most predictable of foes, Exarch. I have no fear however, with the Light on our side we shall defeat his forces today, tomorrow, or whenever he chooses to attack.
Notes
Patch changes
See also
References
External links