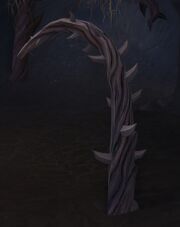 Vines or growths are plant creatures that come out of the ground.
Types
Pod vines
Notes and trivia
Green plant vines reuse a tentacle model introduced for Yogg-Saron.
Stranglethorn Vale is presumably named after vines.
Small root vines are often called by druids to entangle their enemies.
Gallery
Razorfen Kraul, giant thorn vines are a staple of quilboar settlements.
See also
Creature group
Elemental creatures

Elements

Types
Variants

Air variant
Earth variant
Fire variant
Water variant

Other
Golem
Nature