The Virtual Ticket gives a front row seat at BlizzCon from the comfort of ones own couch, live and in high definition. They'll get comprehensive coverage of both days of the show, including panels, contests, interviews, the closing ceremony, and more, along with some cool commemorative in-game goodies. They can even stream the convention using the free BlizzCon Mobile app.[1]
There was no Virtual Ticket for the 2021 BlizzConline as it was free to watch, although the Celebration Collection was made available in its place that provided in-game goodies.
The Virtual Ticket for 2019 is available for $49.99 USD.
Videos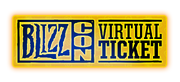 The Virtual Ticket for 2018 was available for $49.99 USD. The price increased by $10 USD from the previous BlizzCon.
Videos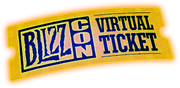 The Virtual Ticket for 2017 was available for $39.99 USD.
World of Warcraft:  

[

Stormwind Skychaser

]

&  

[

Orgrimmar Interceptor

]

— Heroes of Azeroth can show their BlizzCon spirit with the Stormwind Skychaser mount (for the Alliance!) and Orgrimmar Interceptor mount (for the Horde!).
StarCraft II: Junker SCV, Probe, and Drone Skins — Discovered on the fringe worlds by the notorious terran junker gangs who scour the Korprulu sector for salvage, these scrappy SCVs, Probes, and Drones are retrofitted and ready to take on your dirty work.
Diablo III: Murkromancer Pet — No one escapes the aaaaaughibbrgubugbugrguburgle! Rumor has it this necrotic, aquatic companion can command an army of dead fish, which is about as useful as you'd think.
Hearthstone: Mystery Goodie — What's on deck for Hearthstone players? The Innkeeper's not quite ready to show his hand quite yet! (It was revealed to be a legendary Marin the Fox.)[7]
Heroes of the Storm: Nexus Razorback Mount…and More! — Charge into battle on the Nexus Razorback mount, make your mark on the Battlegrounds with a BlizzCon 2017 Banner and Cartoon Nexus Razorback Spray, and show your convention spirit with your BlizzCon 2017 Portrait.
Overwatch: BlizzCon 2017 Winston Skin — Through the power of science, Winston found himself teleported into BlizzCon 2017—and picked up this souvenir skin to mark the curious occasion.
The Virtual Ticket for 2016 was available for $39.99 USD.
World of Warcraft:  

[

Legionnaire Murky

]

and  

[

Knight-Captain Murky

]

— There comes a time when every murloc must choose a side. Will you mrglgglllgl for the Horde alongside Legionnaire Murky, or dive into battle for the Alliance at Knight-Captain Murky's command?
StarCraft II: Mystery Goodies — Show your opponents you were at BlizzCon with a new portrait—and as a bonus, be among the first to unlock a fun new piece of upcoming StarCraft II content.‡
Diablo III: Diablo 20th Anniversary Pet — Celebrate two decades of terror with this anniversary-themed Diablo pet, based on the Dark Lord's design from the original game. †
Hearthstone: "Welcome Inn" Card Back — Pull up a chair by the fireside at BlizzCon's Hearthstone Tavern, then play a few hands with this year's convention-innspired card back.
Heroes of the Storm: Nexus Tiger Mount — Introducing the latest BlizzCon mount to add to your menagerie—the Nexus Tiger! Dash onto the Battlegrounds riding this ferocious beast and show the opposing team they're in for a fight.
Overwatch: BlizzCon 2016 Bastion Skin — A curious automaton has been spotted exploring the halls of a local gaming convention. Cosplay as a BlizzCon-bound Bastion unit in your next match of Overwatch with this commemorative skin. †
 † Diablo III in-game content is for PC/Mac versions only. To obtain the Overwatch in-game content for PlayStation 4 or Xbox One, players must have linked their Battle.net account to a PlayStation Network account or Xbox Live account respectively.
‡ The portrait was related to D.Va from Overwatch that also came with a bonus goodie: the D.Va Announcer.[8] The announcer was made available later for purchase on the Blizzard Shop while the portrait stayed exclusive to those who attended or bought the virtual ticket.
The Virtual Ticket for 2015 was available for $39.99 USD.
World of Warcraft:  

[

Murkidan

]

- After consuming the shin bone of Gul'dan, this fiesty demon hunter was caged for 10,000 years by his brother Murkfurion. Now he's ready to unleash his finfernal rage in pet battles across Azeroth!
StarCraft II: Portraits - Show off your status as a galactic BlizzConquerer with a pair of Legacy of the Void–themed portraits invoking the mysteries of the Xel'Naga and the power of the Spear of Adun.
Diablo III: BlizzCon Pennant, Pet, and Portrait - A trio of treasures awaits! Fly the colors of the BlizzCon crusade with an all-new pennant, and mrglgllglgll the demonic hordes with your Murkgoblin pet and portrait. (Windows/Mac version only)
Hearthstone: Blizzard 2015 Card Back - Hearthstone on phones, Tavern Brawls, Blackrock Mountain, The Grand Tournament, and more—a very cool year, indeed.
Heroes of the Storm: Nexus Battle Beast Mount - Teams will tremble and Cores will crumble when you storm into combat astride the mighty Nexus Battle Beast!
The Virtual Ticket for 2014 was available for $39.99 USD.
World of Warcraft:  

[

Grommloc

]

- Watch your foes flee in terror before this delightfully dreadful baby murloc masquerading as Grommash Hellscream, legendary leader of the Warsong clan.
StarCraft II: Portraits & Decal - Deck out your profile with a pair of portraits, including Hierarch Artanis and another to-be revealed icon, and prep your army for battle across multiple universes with a Heroes of the Storm-themed decal.
Diablo III: Warlords of Draenor Weapon Transmogrifications - Outfit your heroes with six weapon transmogrification appearances inspired by World of Warcraft: Warlords of Draenor-one for each of Diablo III: Reaper of Souls' classes.
Hearthstone: Blizzard 2014 Card Back - Infuse your deck with Blizzard spirit by equipping this commemorative card back, forged to resemble the compass design emblazoned in Blizzard's courtyard.
Heroes of the Storm: Nexus Mount and Portrait - Rush into the storm atop the ethereal Nexus Charger, and embrace the unknown with the mysterious Nexus Brawler portrait.
The Virtual Ticket for 2013 was available for $39.99 USD.
The Virtual Ticket for 2011 was available for $39.99 USD.
The Virtual Ticket for 2010 was the first time that Blizzard offered it and was available for $39.95 USD.
References