This article contains creatures from concept art. It may not exist in the Warcraft universe.

This article is kept purely for historical purposes and should probably not be under any other categories.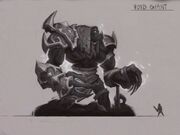 A void giant is a type of gargantuan Void creature only seen in a piece of concept art for Warlords of Draenor.