The subject of this article was removed from World of Warcraft in patch 7.0.3.

This includes items and quests that can no longer be obtained or are now deprecated.
The in-game information in this article is kept purely for historical purposes.
For voidlord lore, see voidlord. For the spell to summon a Voidlord, see

[

Summon Voidlord

]

. For other uses, see Void lord (disambiguation).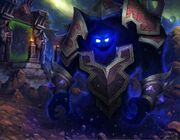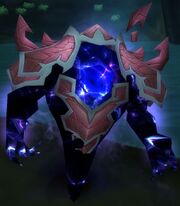 The Voidlord is a demonic minion, available at level 75. It is unlocked by the talent

[Grimoire of Supremacy] and replaces the Voidwalker.
Abilities
As a warlock minion, the Voidlord possesses one ability replacing the one of the Voidwalker.
Quotes
Attack
"Let them face the void..."
"I will shatter their defenses."
"They know not what they face..."
"I will leave nothing of them."
Dismiss
"When you stare into the void... I am staring back."
"When I consume your world... My armies will save you for last."
"I am sated..."
"Ahh... To bathe in darkness... Once more."
Joke

"You know, I made this armor myself."
Order
"Let them throw themselves against me...!"
"The void is my armor..."
"They will not escape my hunger..."
Summon
"You called.... and I have answered."
"I am the hunger of the void..."
"Ah! A new world to devour..."
"I will lead us into battle."
Trivia
Voidlords are voiced by David DeSantos.
The dismiss quote "When you stare into the void... I am staring back" may be a reference to a famous quote by Friedrich Nietzsche: "And when you gaze long into an abyss the abyss also gazes into you".
Patch changes