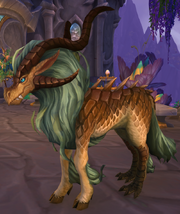 A vorquin is a type of dragonkin found on the Dragon Isles.
As a hunter pet
Main article: Stag
Vorquin are tamable as stags.
Trivia
Vorquin appear to be based on the qilin, a Chinese mythical creature sometimes known colloquially in the west as a "Chinese unicorn". They are the second creature in Warcraft to be based on a qilin, the first being the  

[

Swift Windsteed

]

from Mists of Pandaria.
Gallery
Creature group
Beast creatures

 

Arthropod

Arachnid
Crustacean
Insect

 

Mammal

Carnivoran
Ungulate

Bovids
Camelids
Cetaceans
Proboscids
Swine