Vulpine Familiar
Vulpine Familiar
Mount
Use: Teaches you how to summon this mount.
Requires Level 20
Requires Apprentice Riding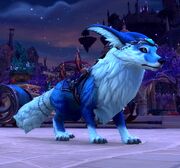 The Vulpine Familiar is a vulpin that has traveled the Great Dark Beyond.
Source
This item is available for purchase from the shop or the In-Game Store for $25 or €25. It was released on December 13, 2018.[1]
Mount Journal
A fiercely intelligent and curious species, these fox-like creatures have traveled the Great Dark Beyond and found their way to Azeroth. Drawn to Azeroth's champions, they seek adventure and companionship.
A fiercely intelligent fox-like creature that seeks adventure and companionship.
The fox that won't trick you – Fiercely intelligent and insatiably curious, this species of fox has travelled the Great Dark Beyond to seek the companionship of the greatest heroes of Azeroth. Vulpine Familiars are born daredevils, and any one of them would make a great companion on your adventures throughout Azeroth and beyond.
Patch changes
Activated on December 13, 2013.

References
External links
Item
Purchase
Mount family

Dragonkin
Feathermane
Invertebrate
Mammal
Reptile
Other

Specific types