WANTED: Za'roco
Objectives
Find and kill Za'roco the Grifter.
Za'roco the Grifter slain
Description
To any with honor and a sharp blade:
Find and kill the thief, Za'roco.
Those that betray their fellow exile[sic] don't deserve to live.
Any who can cross his name off this list will earn a fitting reward.
("Za'roco the Grifter: Known liar and thief.")
Rewards
You will receive:
Progress
There is supposed ta be honor among exiles. Za'roco has none.
Completion
Za'roco got what he deserved, and now, so will you.
Notes
Za'roco is in a hollow at Zul'Ahjin to the east.[46.8, 72.8]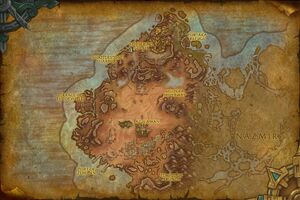 Interrupt his Corruption and turn away from him when he casts Mask of Fear in order to negate its effect.
Progression
Patch changes
External links