War Master Kragg
Not to be confused with Skycap'n Kragg or Kragg.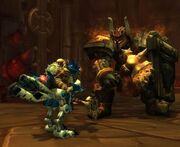 War Master Kragg is an orc seen in the Siege of Orgrimmar. In the Alliance version of the raid, Gelbin's gnomes trapped Kragg and his troops in blocks of ice. He is defeated by adventurers in the Horde version.
Abilities
Obliterate - Ferociously spins his weapon, inflicting 780000 to 820000 Physical damage to all enemies within 10 yards.
Quotes
I have a limitless supply of Kor'kron at my command you fools! Surrender now and I will give you a quick death.
Iron Sentinels! To me!
Patch changes
External links