Not to be confused with  [70] 

War Pigs!

.
Objectives
Collect 8 Grazing Battle-Piglets.
Description
They look cute enough now, but that's a new herd of battleboars in training.
Farmers don't like waste, and it would be a shame to get rid of such useful creatures.
Either way, we could use those pigs, and I'd rather have them with us rather than face a bloodthirsty one in a few years. You should find them up on top of the cliffs overlooking the center of the kraul. Go round up as many piglets as you can take with you and we'll make good use of them.
Rewards
You will receive:
Progress
We can use them for labor, food, and even pets!
Completion
I will take these and make sure they get to the farms for proper training.
Notes
Pick up

 [110 - 120] Run For the Hills before heading out. Stay on Quilltop.
While out and about, look for an Empty Crate at [46.3, 77.0]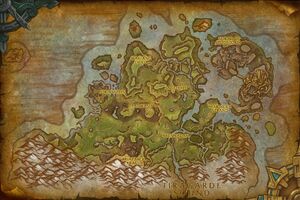 which starts

 [110 - 120] Steal Them Back.
Bewildered Battle-Piglets and Rooting Battle-Piglets also count.
On completion of both, a brief cutscene tracks down the caves and shows an ettin, Bramblefist the Maddened. Pick up

 [110 - 120] Terror of the Kraul to continue.
Progression
Optional breadcrumb in Brennadam:

 [110 - 120] There's Gold in Them There Fields
Patch changes
External links