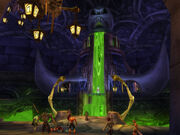 The War Quarter is located in the northwest corner of the Undercity. This is where the Forsaken military is based, and is also home to the city's priest and warrior guilds, as well as a few profession trainers.
The War Quarter contains an Altar of Darkness.[1][2]
Facilities:
NPCs

The subject of this section was removed from World of Warcraft in patch 4.0.3a but is present in Classic.
References