War of the Elements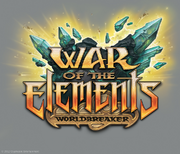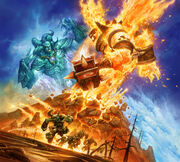 War of the Elements is the 14th normal TCG expansion, released on April 26, 2011. It is set 2 of the Worldbreaker Block.
Loot cards
Set Details
Card Totals
The set contains 270 cards:
80 Commons
60 Rares
50 Uncommons
20 Hero
10 Epics
Card Numbering
Card numbering will be done numerically, with no order of precedence.
Heroes
Master Heroes
External links
WoW TCG official site page for the War of the Elements Expansion
Standard Sets

Heroes of Azeroth Block
March of the Legion Block
Drums of War Block
Scourgewar Block
Worldbreaker Block
Aftermath Block
Timewalkers Block

Dungeon & Raid Decks
Preconstructed Decks
Collector's Sets
Promos
Treasures
Misc.