Warcraft's Anniversary (or WoW's Anniversary) is an event celebrated around the 23rd of November that marks the creation of the franchise in 1994. Warcraft's 20th anniversary was in 2014 and the 25th anniversary was in 2019. Logging in during an anniversary rewards a special achievement and gives a unique buff to experience and reputation earned for the duration of the event.
Events
Since the 13th anniversary, the event includes daily quests and the return of the Classic world bosses.
New with 2021
In 2021, new additions include:
Activities
The following activities are available during the event:
Items
Players are mailed an

 [Anniversary Gift], which contains:
The following mounts are available during the event:
The

[Alabaster Stormtalon] and

[Alabaster Thunderwing] are 15th Anniversary mounts that are available all year from the In-Game Store or Battle.net Shop.
The following toys are available during the event:
The following gear are exclusive to the event:
Sold by Persnip Goodup:
Additionally, two vendors in the Caverns of Time trade in Timewarped Badges:
Notable visitors
Achievements
Previous additions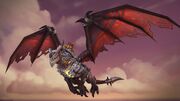 The following are no longer obtainable and has run its course with its specific anniversary.
Notes and trivia
The first Warcraft game, Warcraft: Orcs & Humans, released on 15 November 1994,[1] despite the 23rd being celebrated as the anniversary for the Warcraft franchise.
2005: The first WoW anniversary didn't feature any in-game event, instead it was celebrated in the community website with a Community Timeline.[2] This timeline featured game updates, subscribers milestones, and remarkable fan-made content (such as the infamous Leeroy Jenkins video). It is possible to visit an archived version of this website.
There are no achievements for the 1st, 2nd and 3rd anniversaries because the Achievement system only came out in 2008 with Wrath of the Lich King.
For the 3rd anniversary, Blizzard organized a sweepstake lottery.[3]
For the 5th anniversary, Blizzard made an immense, digital photomosaic composed of thousands of fan pictures.[4]
For the 10th anniversary, veteran World of Warcraft players received a miniature statue of the iconic Orc Statue.
For the 15th anniversary, a video A Toast to 15 Years was released to celebrate the 15th anniversary and the launch of World of Warcraft: Classic. A pin was also available at SDCC 2019 and BlizzCon 2019 and a limited-edition Collector's Edition was released on October 8, 2019.
World of Warcraft: Shadowlands was released on November 23/24, 2020, which was WoW's 16th and Warcraft's 26th anniversaries.
Gallery
References
External links
Frequent
Weekly
Monthly
Micro
Annual
One-time
Removed