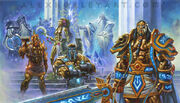 Warcraft Saga is a comic mini-series written by Chris Metzen and illustrated by Alex Horley, serialized exclusively in World of Warcraft: The Magazine beginning with Volume 2.
This mini-series delves into the ancient history of the Warcraft universe, including its origins and the activities of the various powerful forces that shaped it, including the Titans and the Burning Legion.
Only one issue was ever published due to the magazine's cancellation. However, Micky Neilson said that the story will continue.[citation needed] 
The Saga was reprinted to Annual 2015.
Issues
Characters
Locations
Notes
Gallery
Type
Binding
& format
Comic books

Warcraft Saga
World of Warcraft Comic Collection

Non-canon