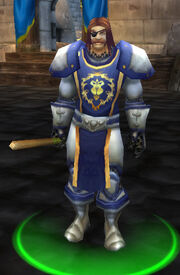 Warden Thelwater is a human quest giver found in Stormwind Stockade.
History
Warden Thelwater was the warden of the Stockades during the time of the Riots, he was unprepared and caught off guard when the first Defias started breaking out. The incident has gone unnoticed and has been kept secret from the society.
During the Elemental Unrest, Thelwater oversaw the captured Cultist Infiltrators.[1]
Since the Cataclysm, The Stockade fell under Thelwater's jurisdiction and wanted to bring control to the place, much to Rifle Commander Coe's disagreement, who would rather just kill all the inmates and be done with it. Thelwater also seeks revenge after Hogger causes the loss of his right eye.
Quests
 [10-30D] 

Grant Me Revenge

 [10-30] 

The Gnoll King

The subject of this section was removed from World of Warcraft in patch 4.0.3a but is present in Classic.
Quotes
This ends here, Hogger!

He's...he's dead?

It's simply too good to be true. You couldn't have killed him so easily!

You are truly great heroes for vanquishing the Gnoll King. People all throughout Elwynn Forest and Westfall will speak highly of your triumph for years to come. Thank you.
You'll pay for this, Hogger!

One day...I will have my revenge...

The subject of this section has been removed from World of Warcraft but is present in Classic.
They must have had someone helping them.

What am I going to do?

How could this happen?

All of a sudden they were everywhere.
Gossip
Over here, you worthless...! If you want to do something useful, listen quick!
Patch changes
Patch 7.3.5 (2018-01-16): Level scales to 62. Previous level: 25.

Patch 4.0.3a (2010-11-23): Thelwater and his guards have moved into the Stockade in order to regain some control.

References
^  [80] 

Arrest the Infiltrators
External links