A warlock set refers to a collection of equipment with a warlock class restriction that usually provides an additional bonus when worn together.
Dungeon sets

Tier sets

Faction sets

PvP sets

This section contains information that is out-of-date.



Alliance

Horde

Alliance and

Horde Arena Reward
Crafted PvP gear
Warlock set lookalikes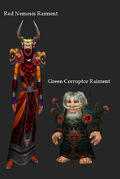 These 'sets' do not have a proper name and offer no set bonuses. They do however present a unified look and carry warlock -friendly stats.
Cloth armor sets
 

Raid sets
 

PvP sets
 

Other sets
Classes
About warlocks
Sets by class