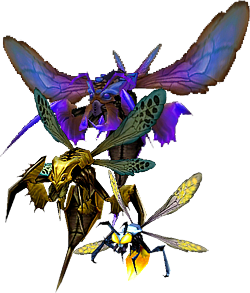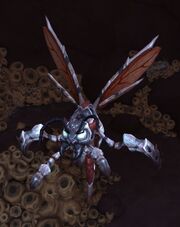 Wasps are an arthropod type found on Azeroth, and other places. They are stinging insects. Wasp species of various sizes can be summoned by certain arcane casters to attack their enemies.[1] A wide variety of silithid wasps are found on Azeroth all over Kalimdor.
Ravager wasp is the second stage of the ravager life cycle.
Notables
Types
As a companion pet
As a hunter pet
Wasps are a family of Ferocity pets in World of Warcraft and are tamable by hunter starting at level 14. Wasps, through the use of their special ability

[Sting], stuns the target for 2 sec. This is useful in PvP.
There are over twenty skins available for wasp pets. Most have vivid bodies and wings, like the purple

 Florawing Needler and the silithid wasps like

 Gorishi Stinger. Some wasp bosses like

 Princess Huhuran and

 Ayamiss the Hunter can be tamed too. Finally, there are some fireflies with glowing stingers like

 Marshlight Bleeder.
Types
Patch changes
Trivia
Gallery
References
External links

Petopia
Creature group
Beast creatures

 

Arthropod

Arachnid
Crustacean
Insect

 

Mammal

Carnivoran
Ungulate

Bovids
Camelids
Cetaceans
Proboscids
Swine
 

Basic
Special

Acid Bite

Chi-Ji's Tranquility

Defense Matrix

Dragon's Guile

Feather Flurry

Fleethoof

Furious Bite

Grievous Bite

Infected Bite

Nether Energy

Niuzao's Fortitude

Obsidian Skin

Scale Shield

Spirit Pulse

Toxic Sting

Winged Agility

Exotic

Calcified Carapace

Dune Strider

Shimmering Scale

Bonus
Specialization