Objectives
Use the Water of Life to extract information from the Corpse of Forgemaster Finlay.
Artifact information extracted
Provided item:

 [Water of Life]
Description
Take my Water of Life and pass it into the corpse of the drowned dwarf.
He was a worker of metals in life, and though his body now feeds my loch, the Water will allow him to tell you what you want to know.
Then, take your information and be gone from my demesne.
Rewards
You will also receive: 18

80
(or 20

67
at max level)
Completion
The Hammer of Twilight? And you say you got this information out of a drowned Wildhammer dwarf?
You're kidding, right?
Notes
Head to the northeast side of the loch. Forgemaster's drowned corpse can be found at [35.1, 61.1]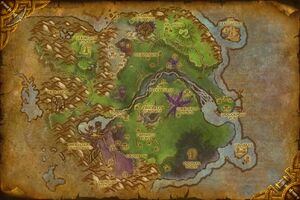 floating chained to an anchor.
Use the water:
Wh... what is this?

I'm dead! Murdered by the Twilight's Hammer.

The Spirit of the Loch sent you here. You seek information.

They captured and enslaved us. Put us to work on a weapon.

A special project... an artifact for Cho'gall.

We were to be rewarded for the best work we'd ever done, and we were... with this.

They imbued it with the power of an Old God.

The weapon which you seek is called the Hammer of Twilight.

Now leave me be. I see the Light....
Surface and return to Mathias Shaw.
Progression
Patch changes
External links