Objectives
Recover the Gnomecorder.
Description
More of our citizens go missing every day. We think the gnolls are responsible, but we have no idea where they are taking them! If you are to help us defeat the gnolls and find our people, you must be properly equipped. Unfortunately, we are all out of gnomecorders. Without a gnomecorder, there is no way for us to communicate with you when you are in the field.
Our last good gnomecorder was stolen by marauding murlocs last week. You will ave to go to Lake Everstill, east of here, and recover it!
Rewards
You will receive: 8

Progress
Have you recovered the gnomecorder?
Completion
Excellent! Let me make a few adjustments here and we should be good to go.
Notes
Pick up

 [7-30] Lake Everstill Clean Up before heading out. Head east past the bridge. There's a murloc camp on the north shore of the lake and there are plenty of murlocs in the water. The Gnomecorder is at [37.8, 42.2]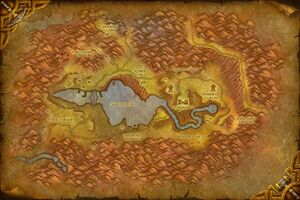 on the small island.
Progression
Optional breadcrumb from: NPCs or Hero's Call Boards.
Patch changes
External links