Objectives
Recover Keeshan's Bow and Keeshan's Survival Knife.
Description
What I'm about to ask of you isn't going to be easy to accomplish, <name>. Keeshan left everything back there in that orc prison, and I'm not just talking about his soul or his will to live.
If we're going to get Johnny ready for war, we need to recover his prized possessions. The orcs now hold Keeshan's bow and his survival knife.
Head over to Alther's Mill, east of here and look for two orc lieutenants, Murdunk and Homurk. They've got Keeshan's gear. Get it back.
I'll be in touch via gnomecorder.
Progress
Did you terminate Murdunk and Homurk?
Completion
<The gnomecorder buzzes with energy.>
Come in, <name>. Do you copy? Troteman here. Great job on getting Keeshan's weapons back! Now there's one final mission you have to run. Are you up to the challenge?
("You send that many, don't forget one thing. A good supply of body bags.")
Notes
Pick up

 [7-30] In Search of Bravo Company before exiting the town hall. Outside, Oslow and Marris both offer quests:

 [Surveying Equipment] and

 [7-30] Render's Army.
Free Messner first. After saving him, head to the east of the mill proper at [51.4, 41.3]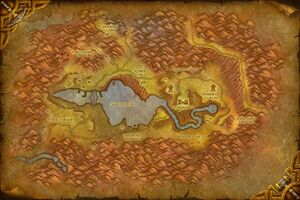 to find Murdunk and Homurk. Kill them both and loot their items.
Progression
Optional breadcrumb from: NPCs or Hero's Call Boards.
Patch changes
External links