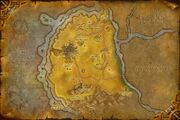 For the pre-Cataclysm storyline, see Westfall quests.
Westfall is an Alliance-only level 10-15 zone in western Azeroth of the Eastern Kingdoms. Players are led here from Elwynn Forest and are immediately thrust into a murder mystery case. The storyline takes players around the broken zone and into the Deadmines before returning to Sentinel Hill for the climax.
After Threat to the Kingdom, or as soon as players reach level 14, players are sent to Three Corners in Redridge Mountains to start the Redridge storyline with

 [7-30] Hero's Call: Redridge Mountains!.
Optional breadcrumbs:

 [5-30] Furlbrow's Deed,

 [5-30] Hero's Call: Westfall!