What Winstone Suggests

Start
Nikki the Gossip
End
Lord Jorach Ravenholdt
Level
10-45
Category
Rogue Campaign
Experience
7,600
Rewards
 

[

Glory of the Order

]

, 500
7 90
Previous
  [10-45] 

The Big Bad Wolfe

Next
  [10-45] 

A Body of Evidence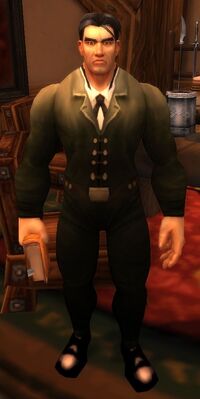 Objectives
Speak to Winstone Wolfe.
Description
If anyone can improve the way things run around here, it's Winstone Wolfe. I tell ya, the man is a miracle-worker!
Now that he's workin' for us, shall we pick his brain an' see what he suggests?
Rewards
You will also receive:
7,600 XP
500
Progress
I see that you were able to convince Mr. Wolfe to join us. Of course, that rather sizeable sum of gold we deposited into his bank account didn't hurt either.
Completion
Things are already looking up. But, of course, in my experience, there is always some amount of bad to temper the good.
Notes
Quest accept

Nikki the Gossip says: Good luck, boss.
Research trait

Winstone Wolfe says: An excellent choice. I will see to it that it gets done. Good to be working with a professional such as yourself, <name>.
Progression
Original campaign
  [10-45] 

Call of The Uncrowned

  [10-45] 

The Final Shadow

  [10-45] 

A Worthy Blade

Acquire the chosen artifact:
  [10-45] 

Honoring Success

  [10-45] 

Delegation

  [10-45] 

Lethal Efficiency

  [10-45] 

Return to the Chamber of Shadows

(optional)
Complete all of the following:

  [10-45] 

Rise, Champions

  [10-45] 

Champion: Garona Halforcen

  [10-45] 

Champion: Vanessa VanCleef

  [10-45] 

The School of Roguery

  [10-45] 

The Big Bad Wolfe

  [10-45] 

What Winstone Suggests

  [10-45] 

A Body of Evidence

  [10-45] 

Spy vs. Spy

  [10-45] 

Another Worthy Blade

  [10-45] 

The Bloody Truth

  [10-45] 

Mystery at Citrine Bay

Complete both:

  [10-45] 

Searching For Clues

  [10-45] 

Time Flies When Yer Havin' Rum!

  [10-45] 

Dark Secrets and Shady Deals

  [10-45] 

Convincin' Old Yancey

  [10-45] 

Fancy Lads and Buccaneers

  [10-45] 

Champion: Fleet Admiral Tethys

Complete all of the following:

  [10-45] 

Throwing SI:7 Off the Trail

  [10-45] 

Blood for the Wolfe

  [10-45] 

Noggenfogger's Reasonable Request

Level 45

  [45] 

The Raven's Eye

  [45] 

Off to Court

Complete both:

  [45] 

In Search of the Eye

  [45] 

Eternal Unrest

  [45] 

Deciphering the Letter

Complete both:
  [45G] 

The World is Not Enough

  [45] 

Picking a Fight

  [45] 

A Simple Plan

  [45] 

The Imposter

Complete both:
  [45] 

One More Thing...

  [45] 

A Hero's Weapon
Patch changes
External links