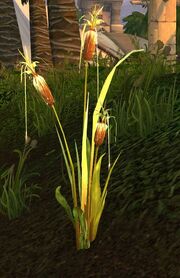 Whiptail is a herb found in Tol Barad and along river banks in Uldum.
Oasis Moths prefer to feed on Whiptail nectar.[1]
As an ingredient
Whiptail is used in the following recipes:
Alchemy
Inscription
Patch changes
Patch 6.0.2 (2014-10-14): Stacks to 200, up from 20.

Hotfix (2011-02-14):

Whiptail was spawning too quickly in Uldum after patch 4.0.6. The spawn time has been reduced.



Patch 4.0.3a (2010-11-23): Added.

References
External links

WoW Farming - Whiptail
 Farming maps and information
Types of

herbs

Apprentice Herbalism
Journeyman
Expert
Artisan
Master
Grand Master
Illustrious Grand Master
Zen Master
Draenor
Legion

Battle for Azeroth
Shadowlands