The subject of this article was removed from World of Warcraft in patch 1.4.0.

This includes items and quests that can no longer be obtained or are now deprecated.
The in-game information in this article is kept purely for historical purposes.
White Mechanostrider Mod B
Mount
Use: Teaches you how to summon this mount.
Alliance Only
Requires Level 40
Requires Journeyman Riding
Source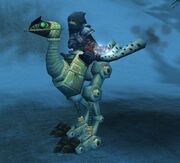 This item was the epic variant of the original mechanostriders before the new art came out.
This item has since been replaced by the Swift Mechanostrider Mounts.
Mount Journal
Forced to recall the model after numerous complaints of an "uncontrollable throttle", Gnomish engineers now refer to a proto-type blunder as a "model B".
Achievements
Patch changes
External links
Mount family

Dragonkin
Feathermane
Invertebrate
Mammal
Reptile
Other

Specific types

 

Mechanical mounts

Aircraft
Hovercraft
Robots

Rockets
Wheeled
vehicles

Trikes

 

Removed mounts

Original Epic
Reputation
Retired
reward
Event
Challenge
Promotional
Special