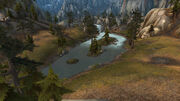 Whitewater Wash is a river leading into the Sylvan Falls in Highmountain, found west of Thunder Totem.[41, 63]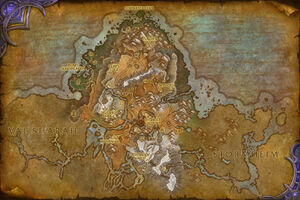 The area features important tauren fisheries[1] as well as several caves, including Lifespring Cavern. The area was attacked by rampaging drogbar, smashing everything they could find, throwing fish to the shore,[2] and capturing Rivermane tauren.[3]
Jale Rivermane and the adventurer arrived and helped free the captured tauren, returned the distraught fish to the river, and got revenge on the drogbar by using their own alchemy against them.[4]
Inhabitants
NPCs
Mobs
Objects
During  [45WQ] 

Return to the River
Patch changes
References
External links