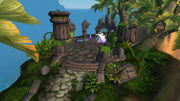 Wildwood Wash is a subzone of Gorgrond that consists of a small Alliance outpost where players first enter the zone, a long road, and a destroyed dam that might be where the area gets its name. The area was an outpost by the Gorian Empire, but it was overtaken by time and/or the Primals. If there was a river here, it drained into the Crimson Fen.
Where could this road have gone? What did the Overlook Ruins overlook?
Wildwood Wash Dam Digsite
Also the location of an Ogre archaeology site.
Patch changes
External links