The subject of this article was removed from World of Warcraft in patch 6.0.2.

This includes items and quests that can no longer be obtained or are now deprecated.
The in-game information in this article is kept purely for historical purposes.
Willix the Importer

Gender
Male
Race
Goblin (Humanoid)
Level
35 Elite
Reaction

Alliance

Horde

Affiliation(s)
Ratchet
Location
Unknown
Status
Alive
Willix the Importer was a friendly level 35 quest giver found in Razorfen Kraul.
Willix is an entrepreneurial goblin who was captured by the quilboar while he was searching for Redleaf Tuber for Mebok Mizzyrix.
See Razorfen Kraul NPCs.
Quests
 [35D] 

Willix the Importer
Quotes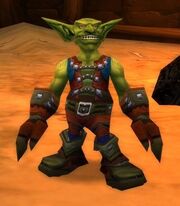 Woo hoo! Finally getting out of here. It's going to be rough though. Keep your eyes peeled for trouble.

Up there is where Charlga Razorflank resides. Blasted old crone.
There's blueleaf tuber in this trench! It's like gold waiting to be mined I tell you!

There could be danger around every corner here.

I don't see how these foul animals live in this place... sheesh it smells!

<Mob> heading this way fast! To arms!

Eek! <Mob> coming right at us!

Egads! <Mob> on me!

<Mob> heading this way fast! To arms!

I think I see a way for us to get out of this big twisted mess of a bramble.

Glad to be out of that wretched trench. Not much nicer up here though!

Finally! I'll be glad to get out of this place.

I think I'll rest a moment and catch my breath before heading back to Ratchet. Thanks for all the help!
Patch changes
External links