Wing Clip
For the Dread Wastes quest, see  [90 Daily] 

Wing Clip

.
Wing Clip

Usable by
Class
Hunter
Properties
School
Physical
Cooldown
None/Global Cooldown
Other information
Level learned
3
Related debuff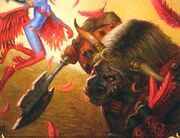 The wound wasn't deep, but it was enough.[1]
Wing Clip is a level 3 hunter ability.
Although it is learned by all hunter specializations, for Beast Mastery and Marksmenship hunters it is replaced by

[Concussive Shot] at level 13.
Notes
Wing Clip can trigger weapon procs. As an instant attack, this makes it a convenient way to force a proc on an enemy before running away.
Wing Clip's has a PvP duration of 8 seconds.
Patch changes
See also
References
External links