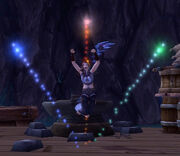 Winning Hand is a Hearthstone-themed toy.
Using the Winning Hand causes a trio of fireworks to be launched overhead as the victory music from Hearthstone is played. The player also performs their /cheer emote, before beginning to dance. The emote "<name> just won a game of Hearthstone!" is also produced.
Source
Purchased from Benjamin Brode in Lunarfall and Frostwall for 100

. He is found wearing an Orc mask in Frostwall.
Patch changes
See also
External links